PRICE MATCH GUARANTEE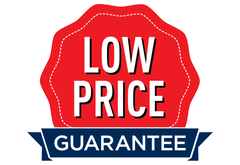 Find the same tires for a
better price somewhere else?
We'll match it.
Call (855)508-3334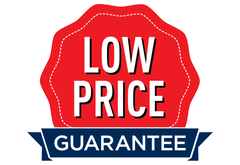 Our mission is to make sure you get your tires, your way. It's why we strive to provide the best online tire buying experience. If you happen to find the same product priced lower somewhere else online, we'll match it, so you know you're paying the lowest price for your tires.
How to Request Your Price Match:
If you would like to submit a price match request, please call us at (855) 508-3334 and we'll start the price match process.
Please have the URL of the competing product price point ready to share with our Customer Service representative.
If you're in the process of ordering your tires and you find them at a lower price elsewhere online, call us before you place your order. That way, we can match the price before you purchase your tires.
Price Match Policy Guidelines:
Valid only on regularly priced items that are identical to the tireamerica.com item, i.e., for a tire, it must be the same brand, line, size, type and have the same speed, load and mileage rating.
Claims must be submitted within 14 days of online purchase. If an item's price is lowered within those 14 days, we will match the lower price, upon request.
Customers must provide documentation (URL) of price match claimed item for validation and that the online retailer has the item in-stock at the time of the price match request.
The online retailer of the price match claimed item must be an authorized reseller of the product and selling it through their own, non-auction, ecommerce channel.
Limitations Do Apply; Tire America Does Not Honor Price Match On:
Specials or promotions, i.e., rebates, instant savings, etc.
Shipping and delivery charges
Installation services
Manufacturer Discontinued Parts
Credit card offers or financing offers
Email or digital flyers
Pricing errors
Limited quantity or out-of-stock items
Coupon offers
Commercial or fleet prices
Open-box items
Clearance items or bundled offers
Refurbished, damaged or pre-owned items
Non-online items
Any claim in excess of one per customer per day
Prices for special sales such as Black Friday, Cyber Monday, holiday sales, weather-related sales, etc.
Tire America reserves the right to update or modify the terms of the policy at any time with or without notice; to verify the price of the item on the online retailer's website and to decline any price match request.