Tire Types
Off Road Tires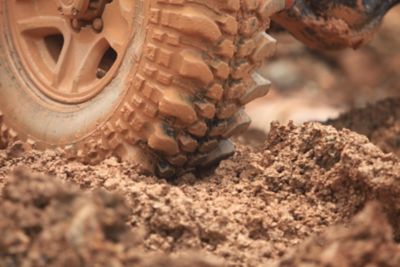 Off-road tires come in different levels of capability that address various needs. There's no one right tire for a given surface, but many off-road tires perform amazingly in numerous settings. You'll want to select your set according to the terrain you intend to drive on, how frequently you'll be off-roading, and the weight capacity the tires must possess. The main tradeoff with off-road tires is the generally softer rubber compound doesn't deliver tread life. Also, the knobby pattern makes for a louder ride on highways. But, when you're scaling roads in the backcountry for a day in the wilderness, you won't care one bit.
All-Terrain Tires
Any style of off-road tire can be driven on roads, but all-terrain tires provide good performance anywhere. Their tread blocks are made with enhanced compounds to provide traction not just on every surface but also going every direction—tight turns on uneven surfaces, backing up out of mud, ascending a gravel trail, etc. Grooves run around the circumference of the tire and laterally, creating channels to disperse rain, with aggressive tread patterns to grip even loose sand.
You can find On/Off-Road All-Terrain tires in all-season models, which even combine a quieter ride with grip in cold conditions, including snow. Check the load capacity, however, to be sure they're capable of carrying the vehicle manufacturer's required weight, as well as any heavy loads you intend to haul. Other styles feature greater durability, such as resistance to cuts and chipping.
Commercial Traction Tires
This style of off-road tire is developed for light trucks and commercial vehicles. Their tread blocks are heavier duty than all-terrain but with the same combination of circumferential and lateral grooves to provide traction on paved and unpaved surfaces. This is the tire you need on your full-size work truck, or any light truck delivering materials to the job site.
You'll see that On/Off-Road Commercial Traction tires have reinforced sidewalls that get them rated for heavy loads. While your commute may only require you to drive off-road a dozen yards or so, you may want the extra traction. You can also find this style with sipes (thinly cut slits) in the tread specifically for traction in heavy rain and snow.
Maximum Traction Tires
Maximum traction tires are commonly called mud tires, since they're normally the best solution to off-road obstacles like troughs of mud, ruts, and rocky trails. Oversized, with an aggressive pattern of extra-large lugs, mud tires are for anyone looking to cut loose with their truck or SUV. In addition to mud, they also allow you to handle soft sand, winter slush and snow.